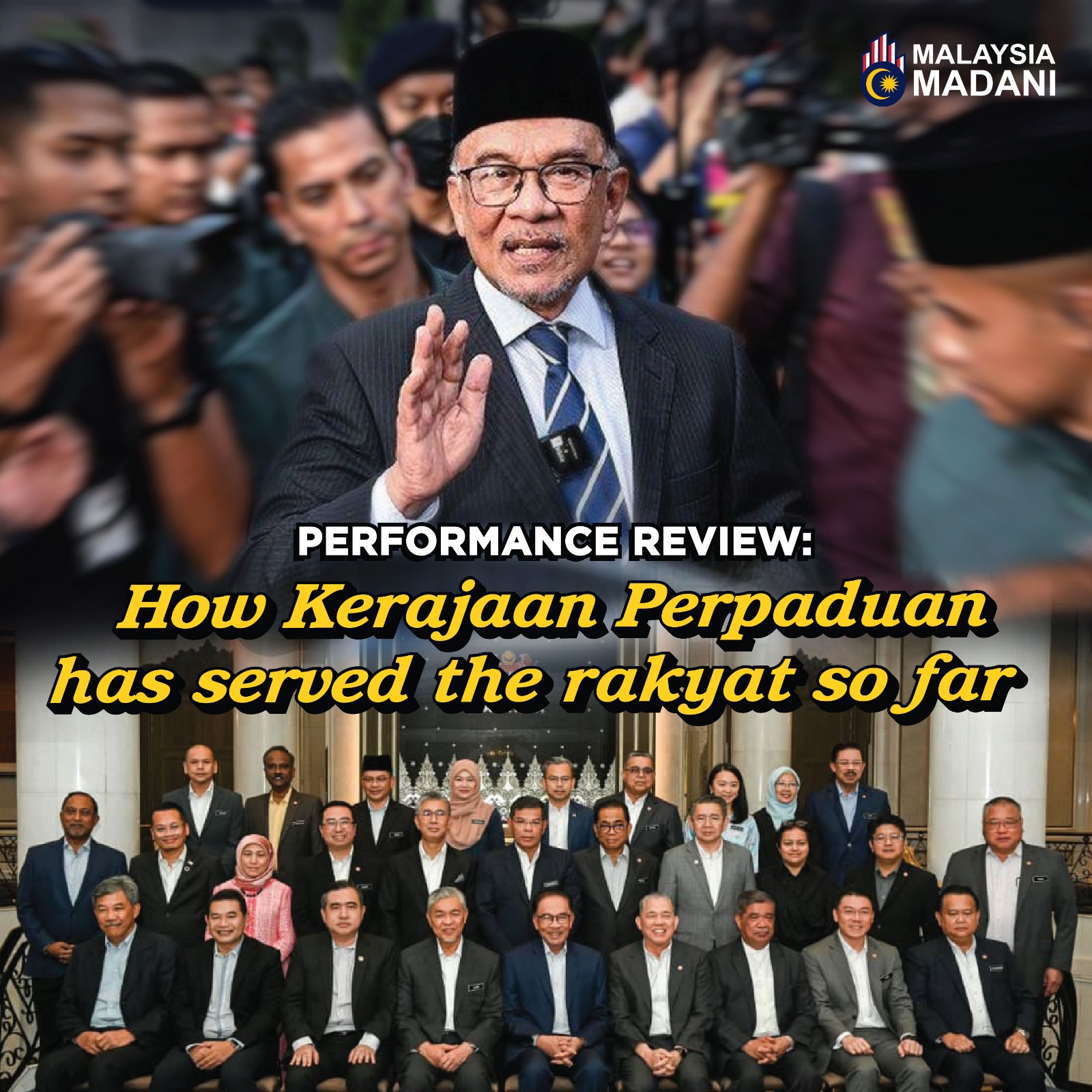 The first quarter of the year has ended, Warner Bros. Entertainment turned 100 years old  and most importantly the John Wick series has come to a close. As of today, the 1st of May, it will be approximately 207 days since Anwar Ibrahim was sworn in as Prime Minister of Malaysia. 
While this isn't exactly enough time to see all the possible plans the government has in place, it does give us a clear indication of the road Kerajaan Perpaduan is currently on. With 6 state elections fast approaching, it's about as good a time as any to review the reforms that the Anwar administration has achieved.
It's not an exaggeration that Kerajaan Perpaduan had a lot on its plate right from the get go. Thankfully, the Anwar administration kept the celebrations and confetti-throwing to a minimum and got straight to work, because frankly there were a heap of issues waiting behind the door to Putrajaya.
Anwar's commitment was to form a politically stable government that prioritised good governance and improving the welfare of the Malaysian people and right from the start, he hit the ground running to make good on those promises.
Within days of being sworn in, Cabinet ministers all agreed to take a pay cut of 20% while the Prime Minister himself declined taking salaries as both Prime Minister and Finance Minister. "I will not take a salary as Prime Minister because I am ashamed to take an RM80,000 salary when some people are finding it hard to even earn RM400 a month," he said in a speech in Taman Orkid, Sungai Siput.
Anwar also called a meeting to address the rising food costs. The 2022 National Action Council on Cost of Living Special Meeting was attended by government departments and agencies to discuss inflation and issues pertaining to the cost of living.
Pursuant to the meeting, several initiatives were introduced to help Malaysians weather the economic storm. For instance, 'Menu Rahmah' which comes under the Payung Rahmah programme was launched by the Ministry of Domestic Trade and Cost of Living (KPDN). Menu Rahmah aims to help feed the hardcore poor by offering lunch and dinner sets for a fixed price of RM5 each.
Another Rahmah initiative 'Jualan Rahmah', was introduced to keep prices of goods sold in participating supermarkets cheaper, including the price of clean standard chicken sold at RM13 per bird compared to the normal price of RM20 per bird.
During the beginning of Ramadan the government targeted that a total of 18,000 hardcore poor households would receive 'Bakul Rahmah' worth RM100 consisting of basic necessities including rice, flour, sugar and oil.
Each ministry has been working hard to realise the Malaysia Madani promise and bring about much needed change.
For example, the Ministry of Local Government Development tackled the issue of housing and reassured Malaysians that affordable housing will undergo thorough tests in order to "provide liveable and comfortable homes for the low-income group (B40) and middle income group (M40).
KPKT minister, Nga Kor Ming also recently announced that the eligibility criteria for purchasing these affordable homes have been expanded to those earning up to RM5,000 a month compared to previously when the maximum salary allowed was RM3,000.
Sticking to the topic of homes, you will need electricity to run it. Amid escalating coal prices, the cost to generate electricity will surely increase. In response, the government through the Ministry of Natural Resources, Environment and Climate Change have implemented targeted electricity subsidies that would not only help households, but SMEs and agricultural businesses alike.
Malaysians are impressed with the government's fast action in solving day-to-day problems which have existed in the country for a very long time.
Remember the pesky road tax stickers and how precise surgical skills are needed to remove and replace them every year? Well thankfully this government has finally heard our pleas. In February of this year, the Ministry of Transport announced the digitalisation of vehicle road tax and driver's licence. Transport Minister Anthony Loke has said that private vehicle owners will only have to obtain digital copies of their vehicle road tax and driver's licence from the MyJPJ application.
This means no more sticky road tax stickers and no more hours of waiting in line at the Road Transport Department (JPJ) to obtain a physical copy of such documents.
It's no secret that the Ministry of Transport has been making much needed changes to Malaysia's public transportation system.
Transport Minister Anthony Loke also revealed in March that public transport users can soon look forward to alternative contactless payments such as credit and debit cards besides the current default Touch 'n Go card. The minister said he has instructed public transportation agencies and operators such as Prasarana Malaysia Berhad (The operator for Rapid KL Trains and Buses) and KTM Berhad to adopt an open payment system.
The government isn't just focused on smaller day-to-day reforms to make our lives easier, they have also put in commendable efforts to ensure long-lasting systemic reforms are done.
In January the government agreed to increase Sabah-Sarawak special grant amount with
allocations worth RM260 million and RM300 million respectively for Sabah and Sarawak.
This is significantly more than what both states received previously of RM16 million and RM26 million respectively. These special grants are in accordance with Article 122D of the Federal Constitution. These allocations will in return encourage development in both states and at the same time help boost economies through the attraction of foreign investments and creation of new jobs.
The Cabinet have also agreed to amend the Federal Constitution to allow children who are born to Malaysian mothers overseas obtain Malaysian citizenship automatically. This bill will be tabled during the next Parliamentary sitting.
The Minister of Home Affairs together with the Minister In The Prime Minister's Department for Law and Institutional Reform came out to announce this decision. "This is in line with the unity government's commitment to recognise equality for women and men, and to remove discrimination towards women in Malaysia".
Additionally, the Penal Code for stalking offences has been amended and passed, following the passing of the Anti Stalking Bill last year. This amendment was done to add a new section for stalking offences and its stipulated penalties.
Mandatory death sentences have also been abolished through the Revision of Sentence of Death and Imprisonment for Natural Life Bill. The revision of said Bill means granting the Federal Court the empowerment to exercise clearer reviews for death row inmates and future cases. An amendment to the Sexual Offences Against Children Bill was also passed ensuring children will be better protected against all forms of exploitation and abuse.
All in all, we can see that Kerajaan Perpaduan is led by a group of dedicated individuals who are passionate about serving the rakyat. They understand that the well-being of the citizens are their top priority and are working tirelessly to ensure that crucial reforms are done to secure a brighter future for all Malaysians.