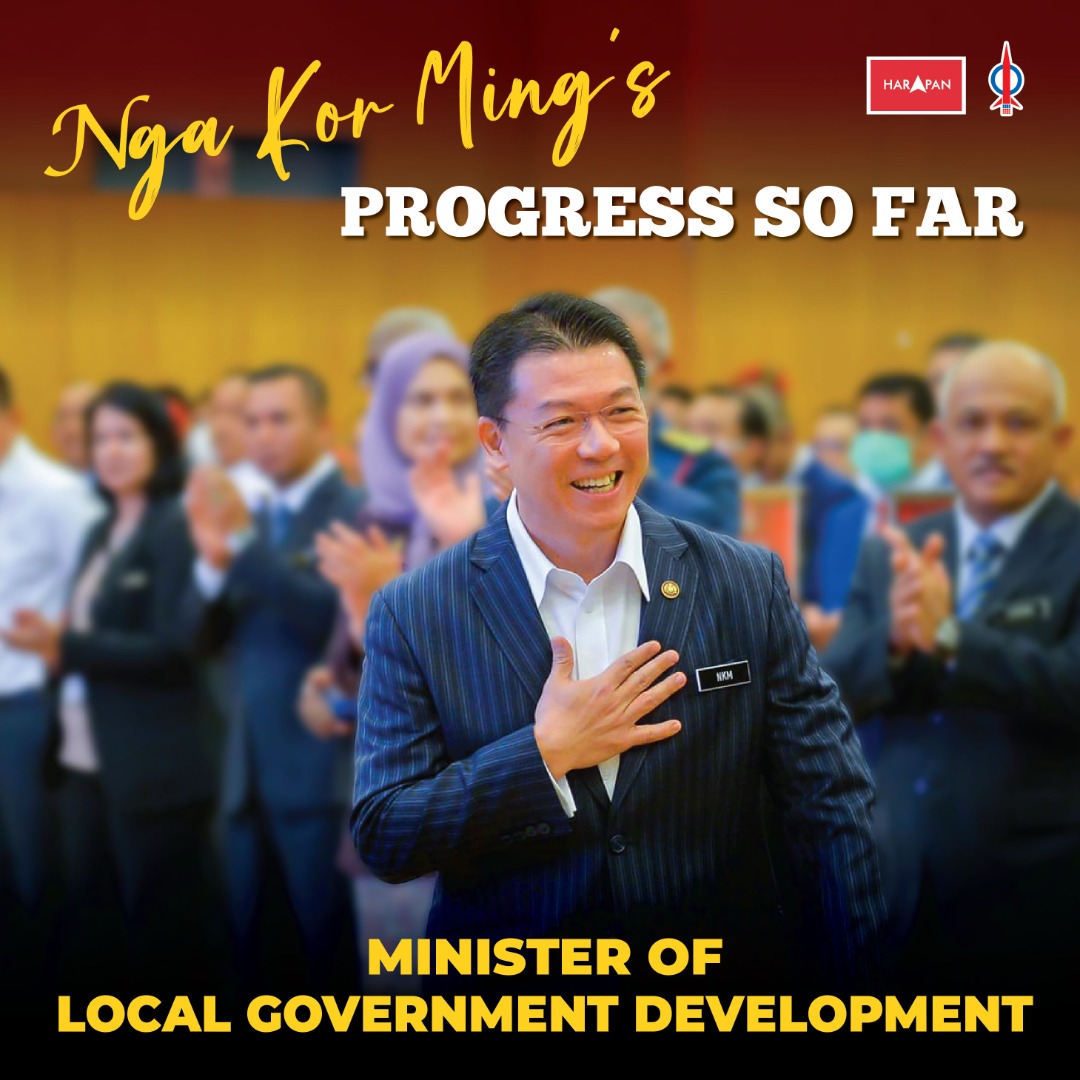 It has been almost two months since Nga Kor Ming clocked in as Minister of Local Government Development, but his tireless effort in getting things done is highly commendable given the amount of time he has had in office. 
As Minister of Local Government Development, Nga has come up with several plans to improve the current living conditions of Malaysians. Housing plans will be revised to attract more buyers to help stimulate the economy. Through his ministry, Nga has set up a taskforce to examine and provide answers regarding abandoned or "sick" housing projects that are affecting homebuyers. It is reported that there are well over 500 of these private housing projects throughout the country. Recently, The Housing and Strata Management Tribunal has settled more than 95% or 39,323 cases involving the Tribunal for Homebuyer Claims (THC) and the Strata Management Tribunal (SMT) for the period between 2018 and 2022.
The development of smart and safe cities will also be given attention to. Nga announced an allocation of RM36 million towards the addition of more GoKL buses within Kuala Lumpur. These buses come equipped with free Internet access and most importantly it has disabled access. Alongside Nga's initiative towards green energy, a large portion of these buses will have an electric power train, and they will be free of charge to ride. This allocation is a part of the urban beautification and greening projects in Kuala Lumpur that is being done by the Kuala Lumpur City Hall.
In line with the theme of smart and safe cities, such cities need high standards of hygiene and cleanliness as does the rest of Malaysia. The Minister of Local Government Development is studying ways to develop an efficient way to manage waste and to covert it into renewable energy. Recently he went on a walkabout and a spot-check in Kuala Lumpur city center. Nga highlighted the importance of garbage disposal and the need for comprehensive waste management along with the importance of having good public toilet standards. Nga vows to improve the conditions of public toilets and has instructed all 155 local government councils (PBT)  and concession companies to conduct around-the-clock inspections in all 18,000 public toilets nationwide. The Minister also insists on "maintenance culture", stating that it must be prioritised in each ministry.
The local government and housing minister will also review and improve the welfare, facilities, and readiness of our Malaysian fire and rescue division. Malaysian Fire and Rescue has been instructed to be more prepared in the event of future national disasters through the identification of disaster-prone areas, close collaborations with the Ministry of Natural Resources, Environment and Climate Change (NRECC) and MET Malaysia, and conduct awareness campaigns for Malaysians to understand the risk of and what to do in case of disasters.
The Teluk Intan MP has also risen to the occasion during the recent Batang Kali landslide by providing full commitment and swift attention towards the victims and everyone involved in the search and rescue mission. The fire and rescue teams that assisted in the Batang Kali tragedy were awarded recognition for their bravery and selflessness. Recently, the minister for local government development has submitted a proposal to the Finance Ministry a request for an allocation of RM26.35 million to acquire critical assets to improve disaster management, operational, and rescue efficiency.
Let's wish him the best of luck in his undertakings towards restoring Malaysia's roar once again.