The blue circle stands for a united multiracial Malaysia

The white background signifies purity & incorruptibility

The red rocket symbolises DAP's dream for a modern, dynamic, and progressive society

The blue and red rocket boosters represent the support and drive given to the Party's objectives by all races

The Democratic Action Party (DAP) was formed in October 1965 based on the ideology of social democracy; with freedom, social justice, equal opportunity, and solidarity as its main tenets.
The party was formally registered on March 18, 1966 and the official organ of the Party, the Rocket, made its inaugural appearance in August 1966. DAP contested its first general election three years later, winning 13 Parliamentary and 31 State Assembly seats.
DAP's strong commitment towards social justice have not gone unpunished. Leaders and supporters of the party have been forced to pay a heavy price for their political beliefs, this includes being detained under the Internal Security Act, jailed on politically trumped-up charges or victimized in a variety of ways.
Starting from the nineties, DAP began uniting the protest vote by joining several political coalitions. These include Gagasan Rakyat (1990-1995); Barisan Alternatif (1999-2001; Pakatan Rakyat (2008-2015); and then Pakatan Harapan (2015-present). These partnerships proved crucial in expanding DAP's vision of a united Malaysia.
In 2008, a new political scenario emerged when the Barisan National (BN) government lost their two-thirds parliamentary majority after mass discontent over rising prices, surging crime, and fraught inter-racial ties.
BN also lost the Penang state to DAP. Under the DAP state administration, Penang has grown to become highly successful from an economic perspective.

In addition to winning numerous accolades, Penang has also been named a top travel destination choice by the New York Times, Yahoo, CNN, TIME, Forbes, and Lonely Planet for its food, culture, and sustainable green living.

In the 2018 general election, history was made when the Pakatan Harapan (PH) coalition ended BN's 60 years of dominance over Malaysia. Some of PH's achievements include the abolition of the Good and Services Tax (GST), the stabilisation of petrol prices, price control for basic commodities, the introduction of a monthly transportation pass, the decrease in broadband internet charges, decrease in toll charges and eliminating the PTPTN loan blacklist.

For the first time in history, DAP leaders also headed key ministries such as: Finance, Transport, and Primary Industries among others. Even though the PH government only lasted 22 months due to a political backdoor coup, it made a substantial impact in Malaysian politics.
There was a marked improvement in Malaysia's global corruption ranking thanks to the swift action taken by the PH government to clean up financial scandals in Malaysia such as 1MDB, SRC International, Felda and Tabung Haji.
As we look forward to the future, DAP will continue to strive for a "Malaysian Malaysia" where all citizens can enjoy justice, freedom, democracy, and good governance regardless of race, religion, or creed.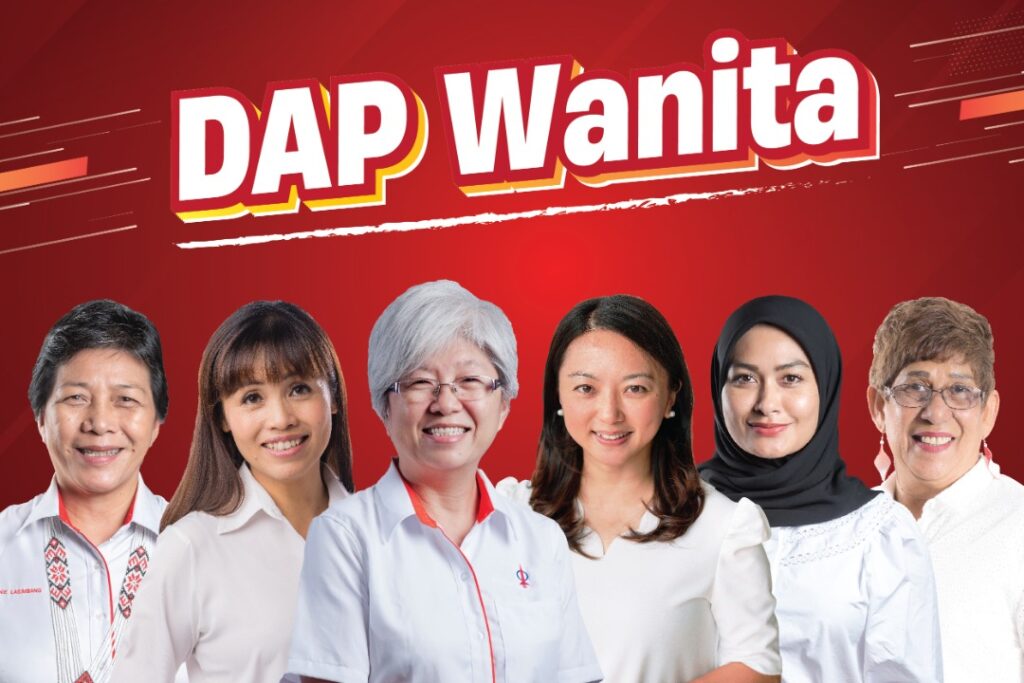 Women's political, social and economic rights are a crucial and inseparable part of DAP's fight for social justice.

DAP understands that women's political representation is a fundamental prerequisite for gender equality and that is why we have ensured that nine seats will always be reserved for women in DAP's central executive committee.

DAP has also produced Malaysia's youngest female MP (Fong Po Kuan, 1999), the first female MP for the opposition (Chong Eng, 1995), Malaysia's first woman speaker (Hannah Yeoh, 2018), and Malaysia's youngest female minister (Yeo Bee Yin, 2018).

DAP looks forward to breaking even more barriers as we strive to create a more inclusive and equal Malaysia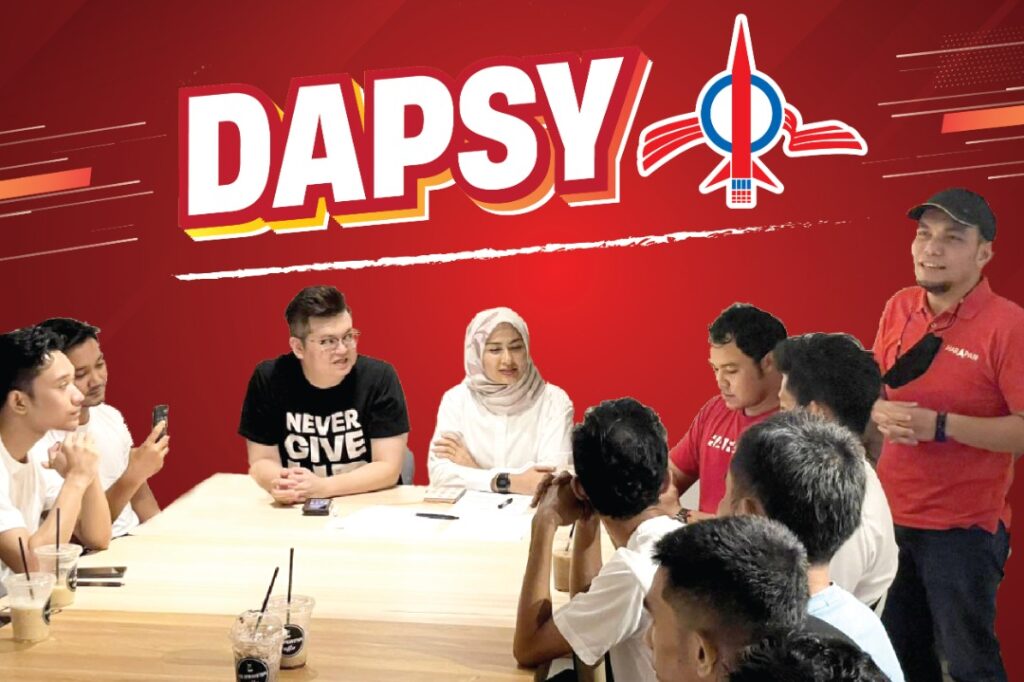 DAPSY is the official youth arm of the Democratic Action Party since being founded in 1972.
DAPSY provides real opportunities for the younger generation to play a greater role in political processes and contribute to practical solutions that advance development. When given an opportunity to organize and voice their opinions, young people consistently demonstrate their willingness to demand and defend democracy.
DAPSY aims to not only encourage youth participation in political discourse but to also train the next generation of progressive and passionate leaders.
In October 1967, DAP joined 55 other political parties globally to become a member of The Socialist International (SI) in Zurich, Switzerland. Along with other like-minded members, DAP championed social democracy and the cause of humanity.
However, in May 2013, after a period of turmoil in SI, DAP joined former and incumbent SI members to form the new Progressive Alliance (PA).
Progressive Alliance comprises of more than 140 parties and organisations worldwide that fight for freedom, solidarity, democracy, social justice, and universal human rights especially in the face of authoritarianism and oppression.
DAP is proud to be a founding and board member of PA; the most active and influential global platform galvanising political parties, unions and NGOs that subscribe to social democracy, labour and democratic socialism.
We staunchly support vulnerable groups and defenders of democratic rights, including the cause of the Palestinians and the Rohingyas. By upholding freedom, justice and solidarity, DAP will continue to fiercely oppose any form of human rights abuses, discrimination and racism the world over.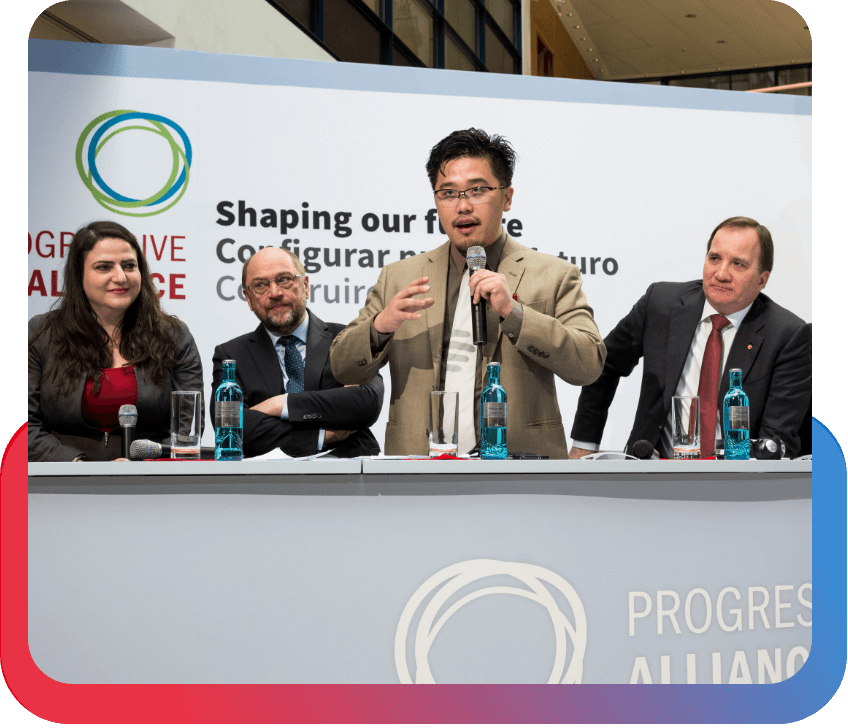 Let us dedicate ourselves to the fundamental premise of the Federal Constitution that Malaysia belongs to both Muslims and non-Muslims, Malays and non-Malays from Peninsular Malaysia, Sabah and Sarawak
The DAP Constitution outlines the party's objectives and struggles, defines the organisation structure, and sets rules to run its affairs. DAP adopts social democracy as its ideology within its Party Constitution, reflecting an embracing of diverse democratic and progressive values.
Download DAP Party Constitution: