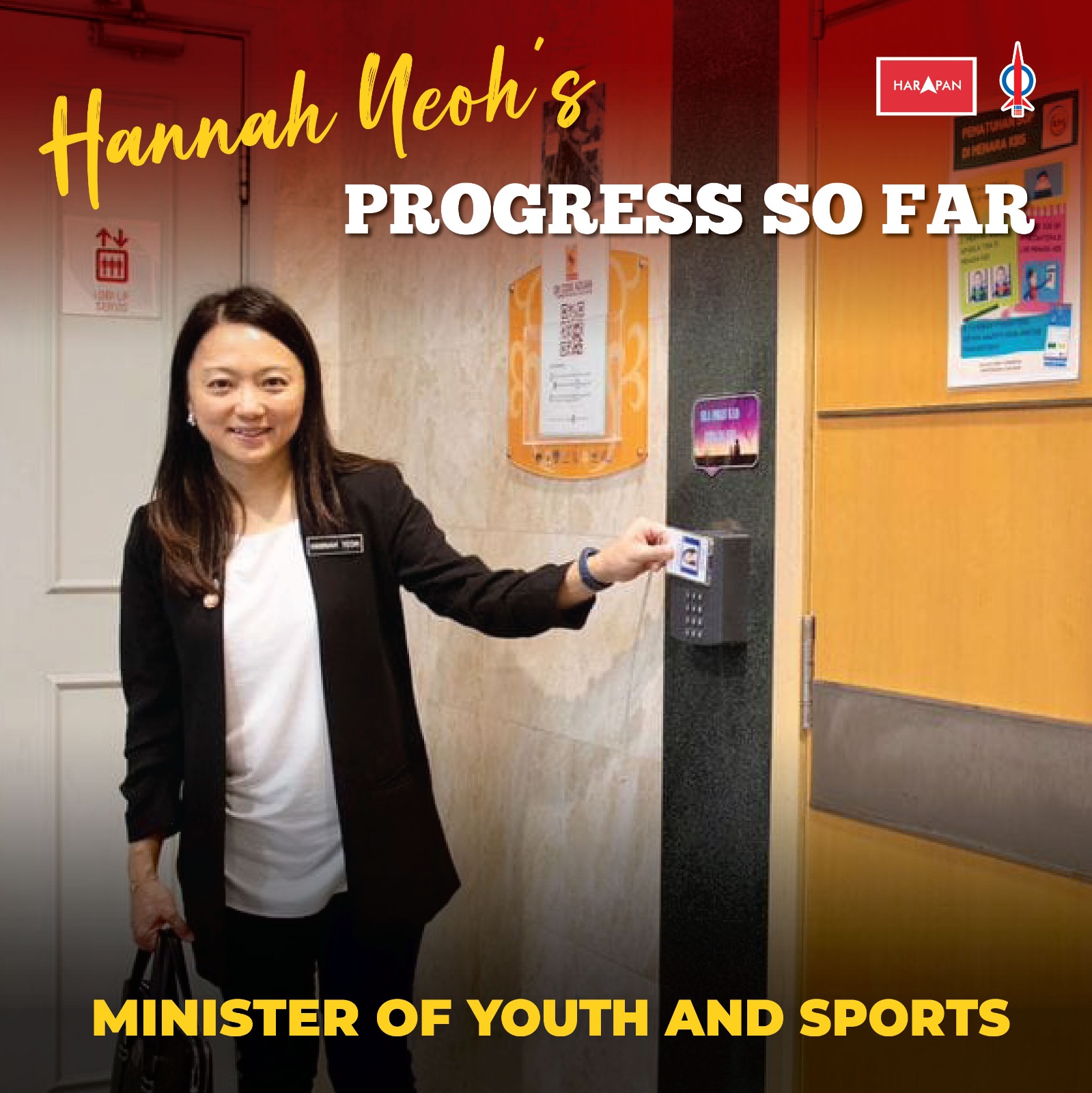 As we approach the two-month mark of Hannah Yeoh being sworn into the Kerajaan Perpaduan cabinet, let us look at what YB Hannah Yeoh has been up to as Minister of Youth and Sports.
Hannah Yeoh is no stranger to dreaming big and challenging the status quo. The Youth and Sports Minister's strive towards Malaysia's first gold medal in the 2024 Olympic Games is proof of her desire to break barriers in the ministry as well. Dubbed The "Road to Gold", the Youth and Sports Minister's has clarified that the main focus with the "Road to Gold" isn't just about bringing home a gold medal, instead she hopes it would create a template for investment in athletes, help athletes build fanbases, foster a sustainable sports ecosystem, gather data for grassroots scouting, and improve the way the country measures sport development and success. "Our first gold medal and our attempt at winning will birth new national heroes, inspire a generation of champions, uplift all sports at all levels, we will harbour bigger dreams in every area of life and industry, and we will believe in ourselves again," she said.
Day by day we see evidence of the ministry being transformed from within. For instance, Hannah Yeoh and her deputy Adam Adli want to do away with tired old protocol and excessive bureaucracy like having the ministry personnel stand and wait for hours to welcome Hannah or bowing in respect. Instead, Hannah said it was sufficient for the Ministry of Youth and Sports (KBS) personnel to implement and ensure the success of whatever had been agreed at the meetings.
"That will suffice and will be a sign that you respect us. Every one of our policies and programmes must be data-driven initiatives so as to be effective for our target groups or stakeholders," she said in her first message to the KBS staff after six weeks of heading the ministry.
Hannah also seeks to work closely with the other ministries to achieve her objective of providing better access to sports for all Malaysians regardless of ability and background as well as provide her expertise and support to the other ministries. With the help of the Ministry of Communications and Digital, the AFF Mitsubishi Electric Cup was broadcasted on RTM. Hannah has also managed to organise "big screen" viewings of live football and hockey tournaments for the public to watch. At the end of the AFF Mitsubishi Electric Cup campaign, the big screen viewing successfully attracted 150,000 viewers from 60 different viewing locations nationwide.
Hannah has pledged that these big screen live viewings will continue for future sports events as well. To further attract viewers, the Youth and Sports Ministry also negotiated with FAM to reduce ticket prices for the AFF Cup 2022. It worked! A total of 65,147 spectators attended the match between Malaysia  and Singapore on the 3rd of January, which was the highest number of spectators in the group stage of the AFF Cup 2022. Interest comes from watching sports," she said in a statement posted on her social media account. 
Hannah is also committed to improving facilities to enable to help our athletes reach their highest potential. Netizens praised her prompt action of acquiring a new canvas to keep Bukit Jalil field dry during the rainy season. In similar fashion, Yeoh was spotted at the Kiara SkatePark as she listened to the concerns of young skaters on what improvements should be made to the skate park, including the fact that the skate park closed too early, leaving skaters with little time to practice.  The park has now extended its closing time from 7.00PM  to 10.00PM after the Minister's visit.
The Youth and Sports Ministry is set to hold discussions with the Ministry of Finance (MoF) before the re-tabling of Budget 2023 on Feb 24 in a continuous effort to obtain more tax incentives for the corporate sector to sponsor the hosting of sports events. Hannah Yeoh said although the ministry had been unsuccessful every year, she would not give up on requesting MoF to provide more tax incentives for the organisation of sports events claiming that the industry would continue to wither when government allocation reduces, no tax incentives are given for corporate sponsors and no encouragement is given to organisers to seek their sponsors.
The ministry will also keep a close eye on our athletes' welfare and safety. After numerous accounts of sexual harassment claims in the womens' national swim team Hannah said she will use her prior experience to enact the Anti-Sexual Harassment Act to ensure the safety of her athletes. When asked about the need and importance of sexual education, the Youth and Sports Minister looks to work together with the Ministry of Women, Family and Community Development on child protection. "There is definitely a great focus and emphasis now by this new government to protect children." said Hannah. Their commitment is not just words, but also backed by action.
Many will remember the incident of the volleyball coach who slapped two teenage players and how the ministry and the Malaysian Volleyball Association were in agreement to revoke the coach's license.  Hannah also made it clear that her ministry will not tolerate abuse of any kind. In a now viral tweet, Hannah reiterated her stance on physical abuse. "I've read comments on slapping incident by volleyball coach saying it's wrong to slap girls. Firstly, Slapping boys wrong too. In fact, slapping anyone is wrong. Secondly, Malaysians must stop normalising physical abuse as means for behavioural compliance – wrong on kids, athletes, spouse or maid!"
Instead of coming up with new programs from the ministry, Hannah will review and re-evaluate existing programs that are within the ministry. She called for her ministry to increase the number of low-cost programmes that can have a big impact on people, especially at the grassroots level and for those who live in rural areas. Through the Youth and Sports Skills Training Institute (ILKBS), the Youth and Sports Ministry is organising the Skills and Life programme to empower youths with additional technical skills. The programme will offer basic skills training to the community, especially youths from the B40 and M40 groups as well as at-risk, minority youths and working individuals aged 40 and below. It doesn't stop there, the ministry also plans to organise language skills training for interested youths. "The next step is for the youths to master languages such as English, Malay, Mandarin and Tamil, so that when these youths go for an interview to get a job or promotion, they have new skills."
We can't wait to see what the Youth and Sports Ministry will have up their sleeves next! Let's wish them the best on their journey towards excellence!