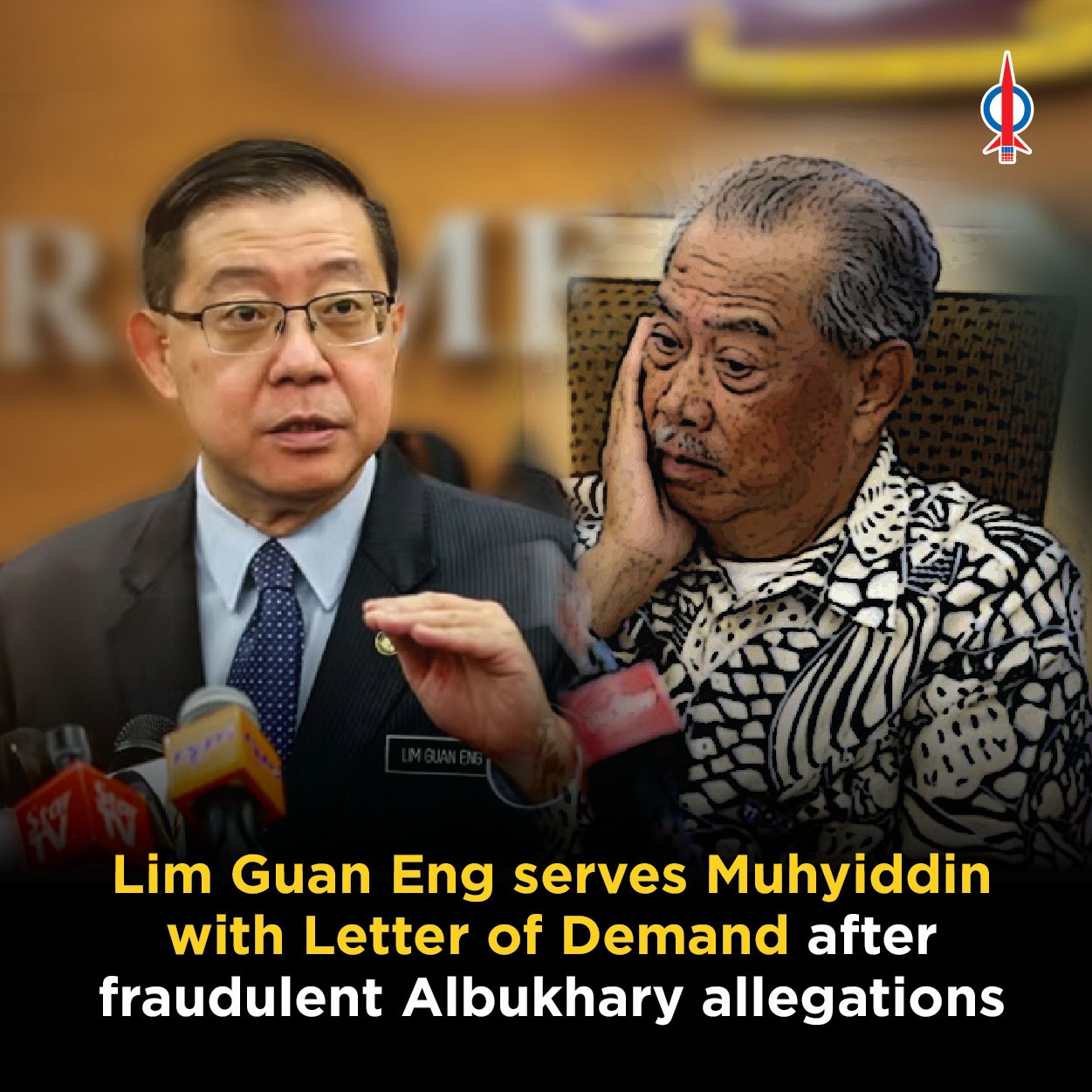 On 9th March 2023, standing by the gates of MACC Headquarters in front of press, former Prime Minister Tan Sri Muhyiddin Yassin had made defamatory statements on Lim Guan Eng, DAP Chairman and Member of Parliament for Bagan, which were also issued on his Facebook page. These statements were about an alleged revocation of the tax-exempt status of Al-Bukhary Foundation when Lim Guan Eng was Finance Minister.
The defamatory sentences included, "Yayasan Al-Bukhary menjalankan kerja-kerja amal dan kebajikan khususnya membangunkan Islam dan membantu umat Islam.", "atas semua itu, Yayasan ini diberikan kelulusan pengecualian cukai oleh kerajaan BN sebelum ini." and "selepas PRU14, kerajaan gabungan PH tertubuh, Menteri Kewangan dari DAP Lim Guan Eng telah membatalkan pengecualian yang telah pun diluluskan kepada Yayasan Al-Bukhary".
These statements are significant to the public because it contains lies and can be perceived to be racially motivated. Even though Lim Guan Eng had strongly denied the lies and asked Muhyiddin to show proof and produce the alleged letter of revocation, Muhyiddin had failed to do so. He also did not produce any letter or document from the Inland Revenue Board (IRB) to verify this matter.
Additionally, Muhyiddin had failed to withdraw and apologise, thus leaving Lim Guan Eng no choice but to take legal action against him. This is necessary because by issuing that statement, Muhyiddin is insinuating that Lim Guan Eng had abused his position as Finance Minister and it promotes the perception as if he was racially targeting Yayasan Al-Bukhary, thus leaving a charitable organisation specifically for Malays at a disadvantage.
These allegations are harmful, baseless and amounts to libel. Reiterating the lawsuit, over decades as an active politician, Lim Guan Eng has demonstrated through his actions and conduct that he has defended the rights of every race regardless of any religion in Malaysia.