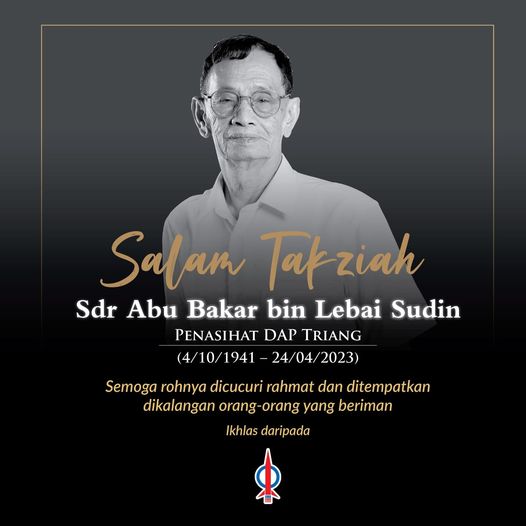 On a sorrowful Monday night, just two days after Hari Raya, DAP has learned that Saudara Abu Bakar bin Lebai Sudin, longtime veteran of the party has passed away.
Saudara Abu Bakar was not only a fighter in the DAP, but he was a fighter for all. His history in the party started when he became a member in Sungai Siput, Perak. Soon after, when he became a FELDA settler in Tementi Bera in Triang, Pahang he would set up a branch known as DAP Triang, a branch that stands until today.
That momentous occasion would mark his political career for 43 years.
He went on to contest under DAP for the Raub and Bentong Parliamentary seats and for the Mentakab and Pulau Manis state seats. Although there were various challenges in front of him, he took it all in stride for the sake of Malaysia's future.
In later years, he became DAP Triang's advisor and his last position in the party would be the Vice Chairman for DAP Pahang.
State Assemblyperson for DUN Triang, Leong Yu Man shares her memories with her 'Pakcik' Abu Bakar, by reminiscing her last interaction with him on the first day of Hari Raya. She remembers him to be a warm, friendly and funny person. She also thanks him for joining the party since the 70s despite hard and downtrodden times.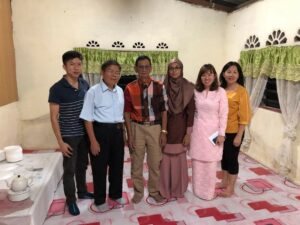 Secretary-General, Anthony Loke also expresses his condolences by giving thanks to Saudara Abu Bakar's contributions and sacrifices for the country.
History can attest to the fact that he was a dedicated fighter for the Malaysian Malaysia. His commitment to justice and equality is an inspiration for all.
On behalf of the DAP, we extend our deepest sympathy and condolences to the family and all affected by this great loss.